How Localistico calculates the views, searches and actions?
You can find the metrics page under interactions tab on Localistico. On this page you can see how many views your location has received, in how many searches your location has appeared and how many clicks your profiles have received on the website, calls and direction -button.
Localistico extracts this information from your Google My Business account. Having the ownership of the profile and the Google credentials added to Localistico is mandatory. If you don't know how to add the Google credentials to Localistico, please have a look at the related article.
In this article is explained how Google calculates the metrics so that you can read them correctly in Localistico.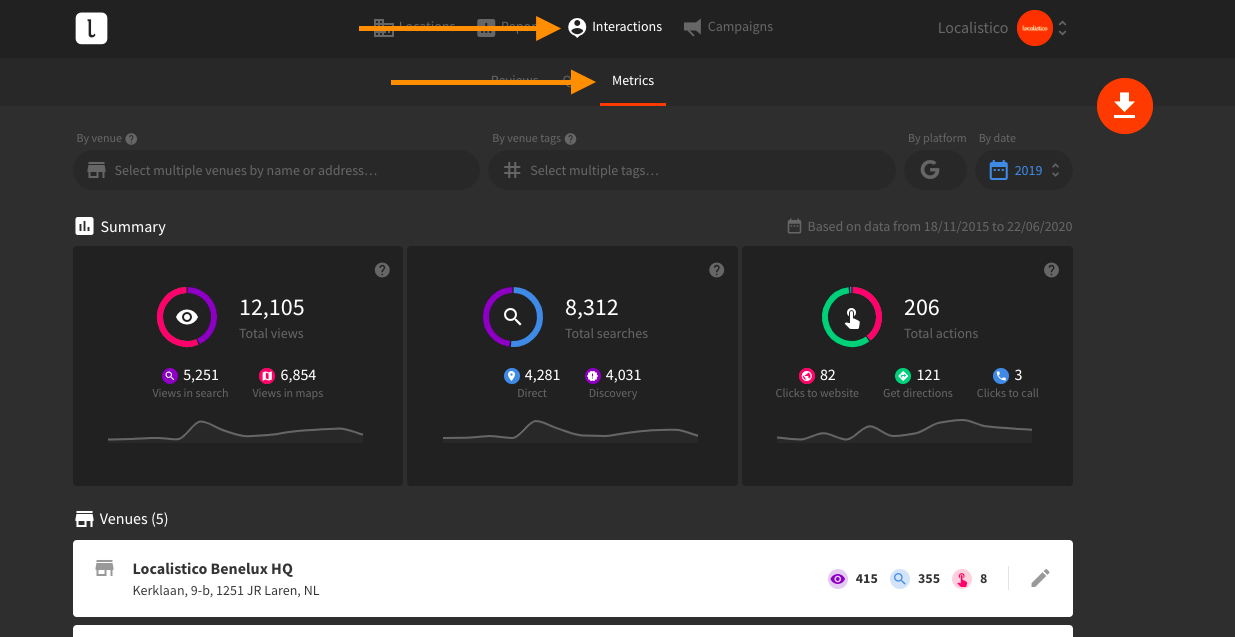 Views
Views, or impressions, are divided in Localistico in two sections: views in Google Maps and views in Google Search. Each of the numbers tells you how many times your business has been seen on either of the platforms during the given period.
Views might be results of searches but it's not necessary. Your client might be just clicking around the Web and your profile appears, this is calculated as a view but not as a search. Also, if your client first sees your profile on Google Search but clicks on the Maps icon to see your profile on Google Maps, this is calculated as one view on Google Search and one view on Google Maps.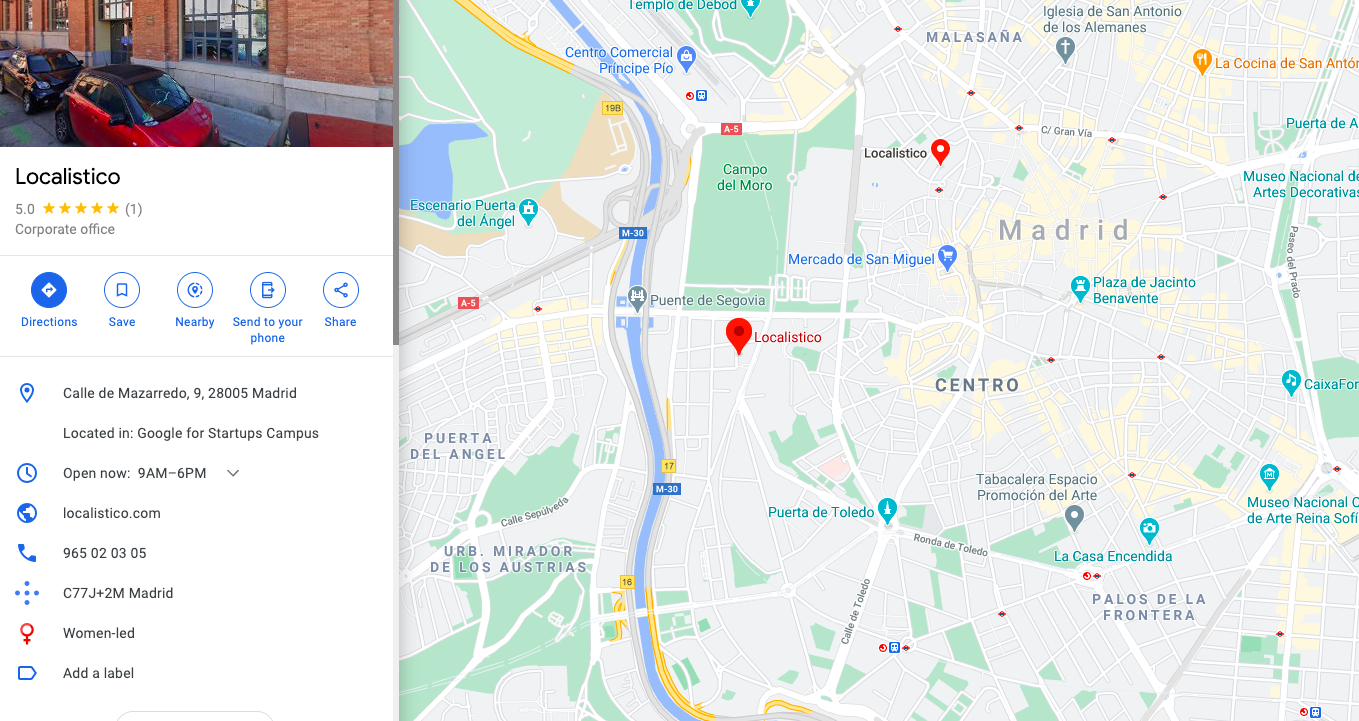 Total number of the views includes all the views on Maps and Search.
Searches
The total number of searches has been divided into direct search and discoveries in Localistico. Direct search means that a user is searching your business on Google by using your business name or address. If your profile or several profiles appear in this search, each of them is calculated as one direct search.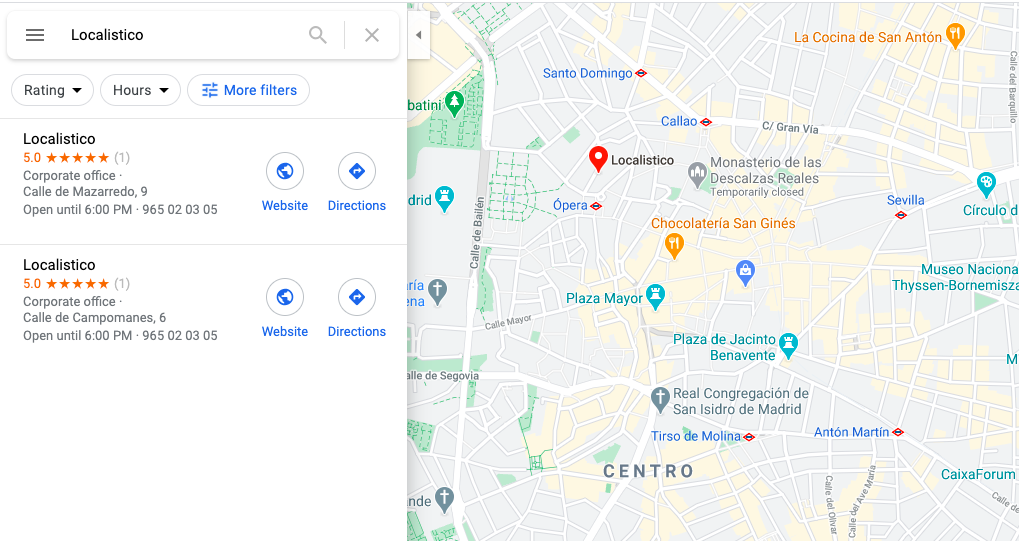 Discovery means searches that are made with keywords such as marketing agency near me or Italian restaurants London. The profiles that appear in these searches are discoveries. These search results are the valuable ones as they help you to reach new potential customers. If the number that your profile has been discovered is low, please review your categories, venue information and keywords that appear in your business profiles. Each profile that appears in discovery searches will be calculated as an individual discovery.
Actions
Actions are divided in clicks to call, clicks to direction and click to website. For example, every time a user clicks on "call" on a Google profile, it's registered as one click.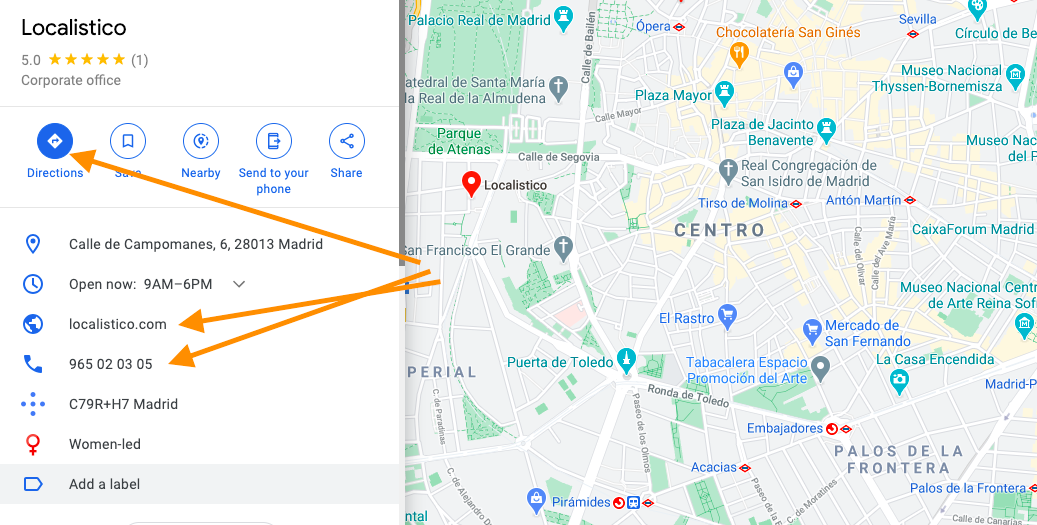 Google calculates that 76% of people that click on calls and get directions visit the store in the next 24h hours. 25% of the people, as an average, who visit a store, make a purchase. If you know what your conversion rate is for your stores and your average basket value, we can provide a model for the revenue that you're driving from local searches.
Please have a look at how this article to find out more on the metrics.