Changes took effect on the week commencing 20th February 2023.
Google made some important changes to their performance metrics on 20 February 2023. This includes new metrics being added, metrics that have been deprecated and for some metrics, the way they are calculated has changed. The new metrics will be available in the Localistico dashboard in week 10. We wanted to make you aware of those changes and how these will be reflected in the Localistico tool.
Below you will find an overview of the changes: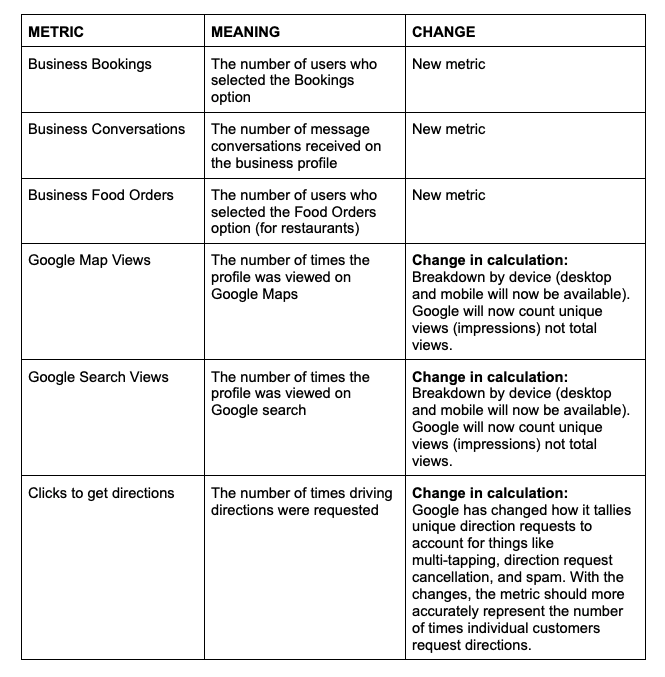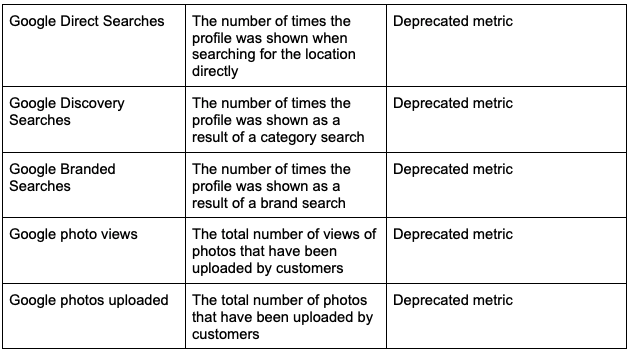 For the metrics that Google has deprecated, there will be no data available for these metrics past 20 February 2023 in the Localistico analytics dashboard.
Although the search metrics have been deprecated by Google, businesses will now be able to see the most commonly used keywords that are used to find you on Google. We believe this data will provide more actionable insight for you. This information will be available in a monthly report in Localistico coming soon.
For the metrics where the calculation has changed (map and search views and click to get directions) you will see the new calculation in Localistico for both past data and data moving forward. This will match what you see in the GMB UI.
Google post performance metrics:
Google will no longer be providing views or clicks data on Google posts. Businesses can continue to add tracking parameters to the CTA link on the post via Localistico. While this won't report on total views, you'll be able to see engagement from each post on Google.
Customise your metrics dashboard!
Localistico is also launching a new customisable metrics dashboard, which will be going live in week 10. This will give you the ability to select which metrics you would like to see in your Localistico metrics tab for both Google and Facebook. This will include the new Google performance metrics available as listed in the above table.
If you have any questions, please don't hesitate to reach out to support@localistico.com or your Customer Success Manager.
FAQ:
I have seen a drop in map views/search views - is this because of the new Google metrics?
Yes - Google has changed how they define views (impressions). Now, multiple views by a single user in a single day are counted as a single view, regardless of the device. Google has done this to ensure the views measure better reflects the volume of unique activity. As a business, you may see lower volumes of views but the activity to your online presence has not changed.
I have seen a drop in action metrics - is this because of the new Google metrics?
Yes - Google has changed how they calculate the metric 'click to get directions' to unique direction requests to account for things like multi-tapping, direction request cancellation, and spam. With the changes, the metric should more accurately represent the number of times individual customers request directions.