Yes, you can reply to the reviews directly from Localistico – and you should.
Replying to reviews is quick and simple with Localistico. Reviews are extracted from the platforms and can be answered from our tool by clicking on the arrow icon next to the review. You also have the option to share the review and translate it.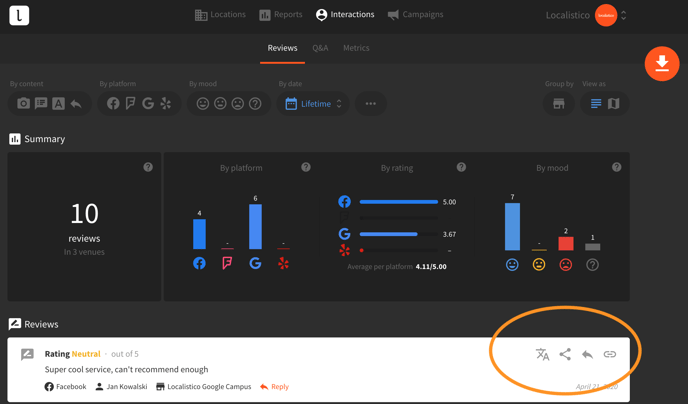 You can also filter reviews based on the following criteria:
Reviews with or without pictures
Reviews with or without text
Reviews that include highlighted keywords. For more information, refer to the related article.
Reviews with or without a reply
Reviews by platform
Reviews by mood
Reviews by date range
Filter by author
Filter by venue
Filter by tags

You can also group replies by venue, or view them as a list or on a map.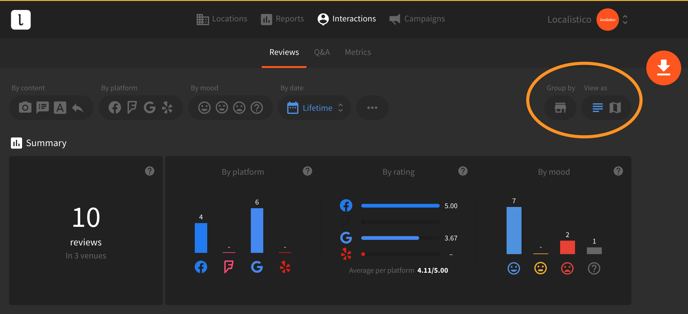 In the map view, the venues are colour-coded based on the number of interactions. This allows you to easily see which locations are receiving more reviews. The colour-coded legend is on the bottom left.
The map view is also interactive. You can:
Zoom in or out to see more/less of the map
Enter and exit full-screen mode
View in dark mode
Click on a location for an overview of interactions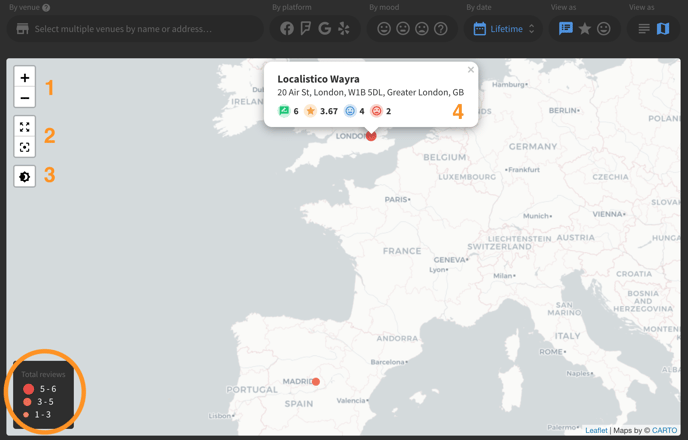 Why it is important to answer reviews?
Replying to the reviews is critical for effective reputation management. Make it a habit to respond to all reviews, good and bad, and include local keywords to improve your local search ranking.
Tools to reply reviews faster
To save time, we recommend setting up reply templates in Localistico. You can access this feature by navigating to your settings > advanced settings tab.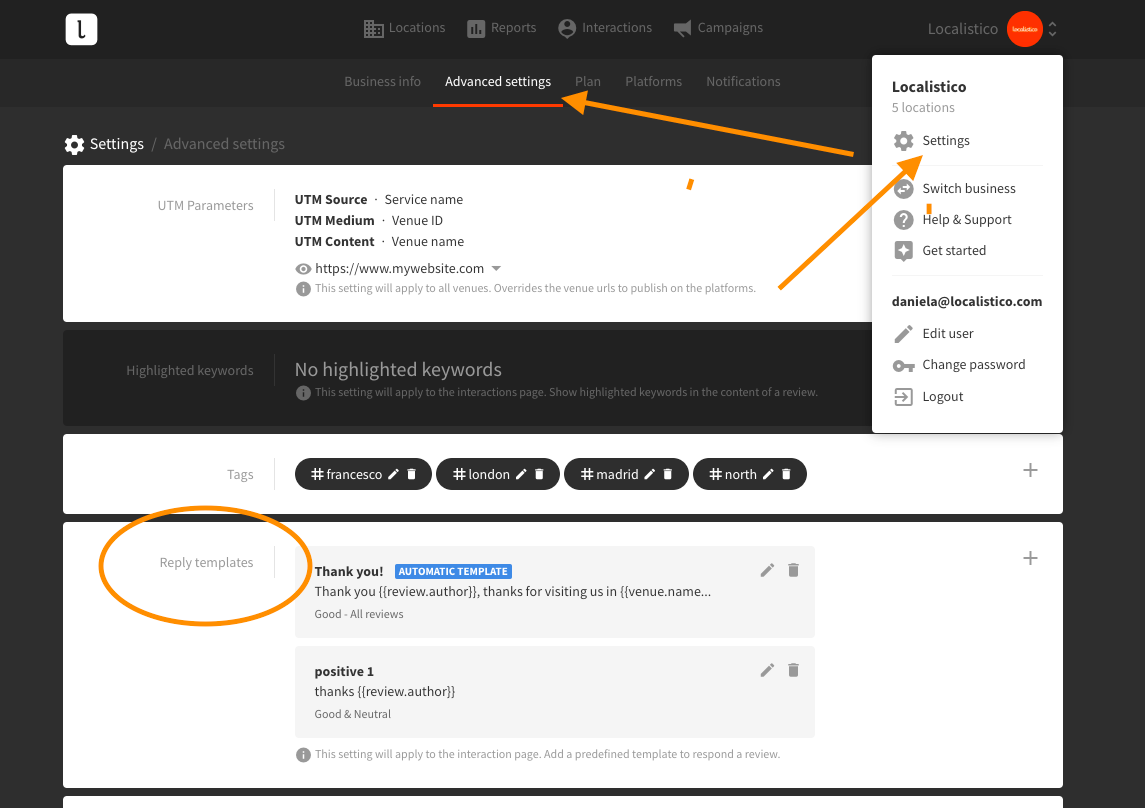 Here, you will be able to create reply templates and leverage "placeholders".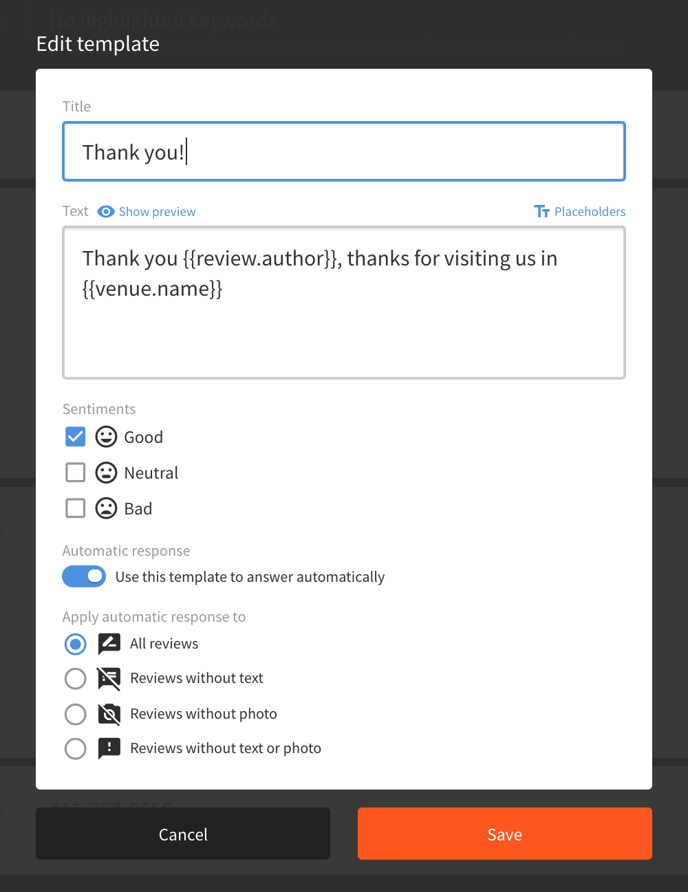 The placeholder functionality ensures each reply is relevant and customised by automatically pulling in the correct information for the selected criteria.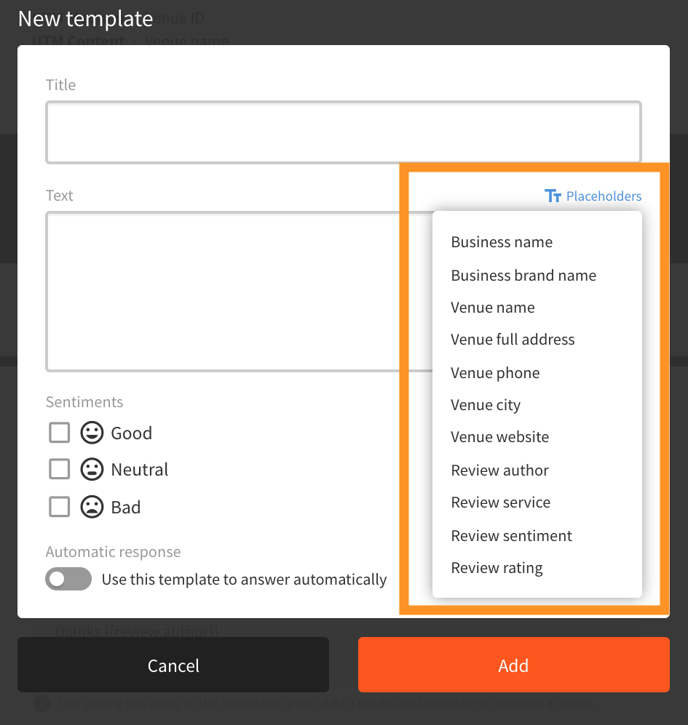 Set automatic responses to your reviews
Localistico allows you to set auto reply templates to reply even faster to your clients. If you activate the automatic response function for a template, Localistico will send that template automatically to the new reviews that are extracted from the platforms. Remember to set the sentiment so that a template that is meant for a positive review doesn't get sent to a bad review. We recommend having several reply templates for each sentiment to sound more human. If you have created multiple auto reply templates with the same sentiment, Localistico rotates them so that the same template doesn't get sent out for every new review.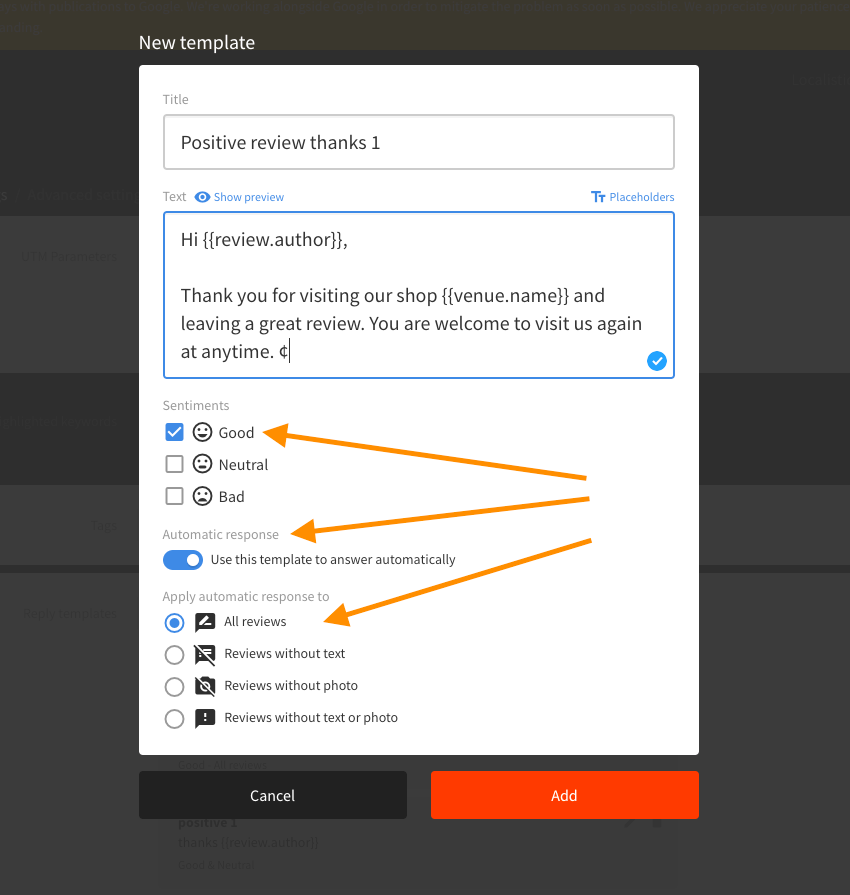 In order to activate the automatic reply feature, please contact to support@localistico.com. Please note that automatic reply might not be included in your subscription plan.
How can I report reviews?
Currently, it is not possible to delete a review from Localistico. Instead, you will have to report the review in the platform. Please see the following help articles for more information.