In this article we have collected some tips for you to optimize your business.
We recommend completing Business data at the beginning of your subscription. This way you make sure to have the best experience of using Localistico. You may access the business settings tab by clicking on your business logo in the upper left corner.
Business info
Business name is how your business is called in Localistico. It is only for the internal purposes, and it won't be displayed to your customers.
Brand name is the name that will be displayed on the platforms such as Google if the setting is activated. Google advices to publish the brand name for all your locations. If you wish to follow this guideline, you can activate the brand name here:

Brand name can only be activated on some platforms if it suits better to your strategy:
Please note that this setting will override the names that you have set on the venue level.
Set a business logo for your business. This helps your clients to recognize your brand online. Logo can be applied on business level under the Settings-tab, or on venue level by editing settings of each venue.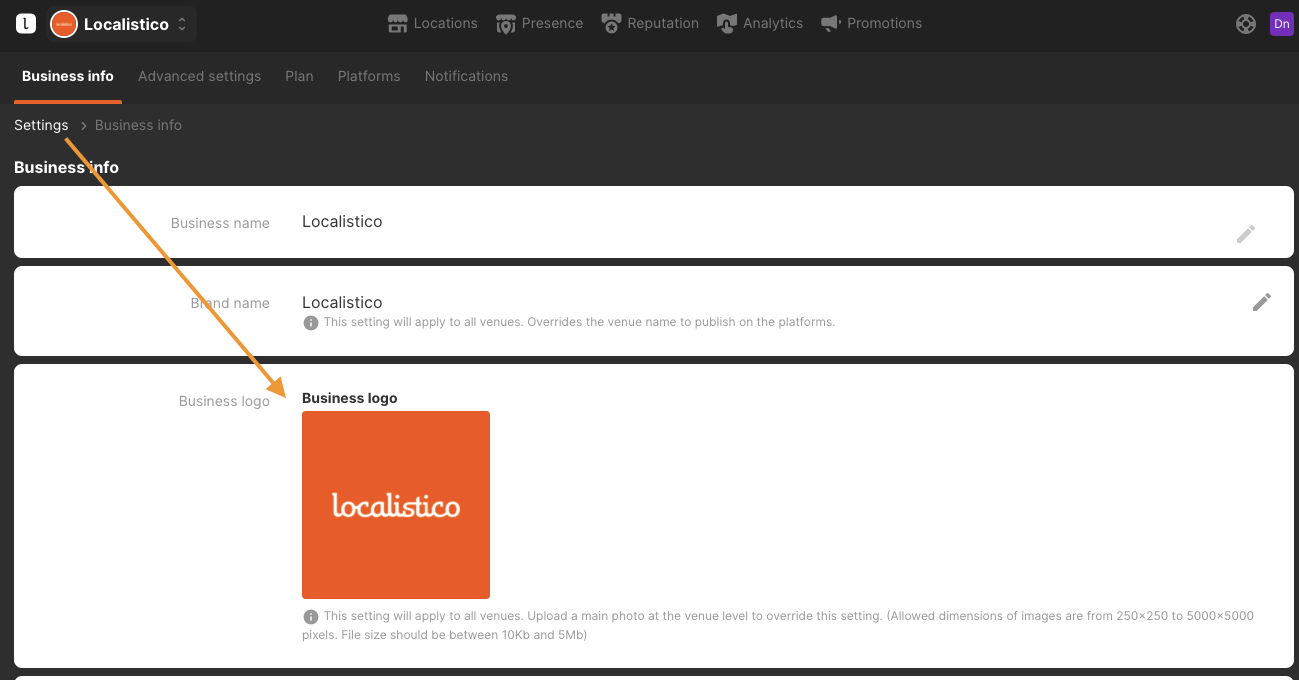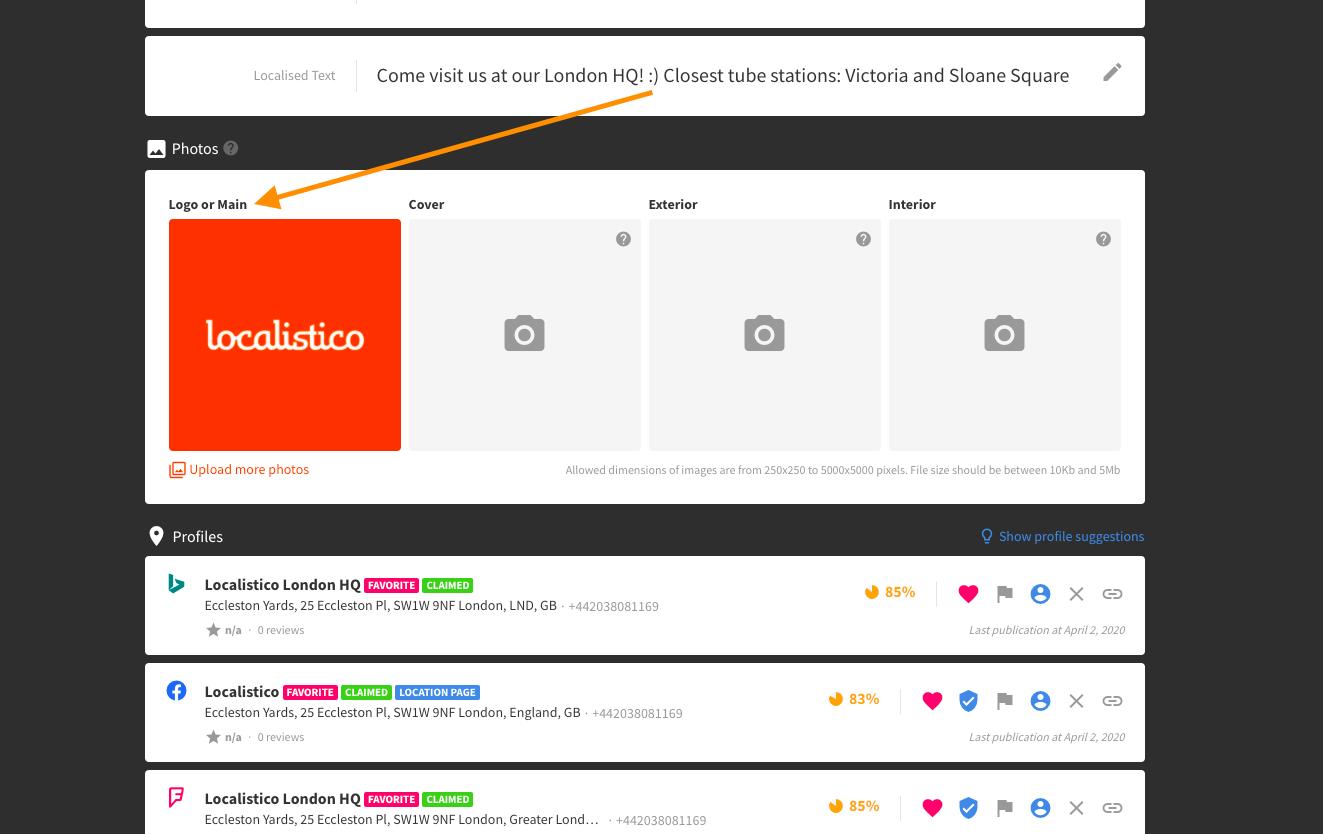 Select the correct categories:

Add the one that defines your business as the first category. Some platforms apply more relevance to this first one, so the order matters!
Remember to add also alternative categories for each platform. Categories can be applied on business level under the Settings or on venue level by editing settings of each venue. The categories set on venue level override the business level categories.
Even if they sound redundant (eg: "Vegan Restaurant" and "Restaurant" or "Café" and "Coffee shop") it will generally help your relevancy to have categories explicitly published. Platforms allow adding between 3-9 categories, so feel free to choose the ones that you think suit you better, whether generic or specific.

You can recognise the categories that are set on business level from the little orange icon:
Activate the Google extended attributes to provide more specific information about your business. You can for example specify which payment methods are available or if your location has a wheelchair access. The Google primary category defines which attributes are available for your business.
You can set the Google attributes from Business Info tab ready for the new venues that you will create later in Localistico. To edit Google Attributes of the existing venues, please use our bulk editor or manually edit the attributes from the venue settings. Have a look at the related article

for further information about the Google attributes.

Activate notifications:
Activating your notifications on the settings tab will send you periodic emails, to keep you informed of the changes and reviews in your profiles. In order to activate the notifications, click on your logo in the upper right corner, select "settings" and then "notifications".

Platforms
Without credentials, Localistico may not be able to publish your changes. Add the credentials in the Platforms tab within Settings tab by clicking on Add credential. Please have a look at this article for more specific instructions. In order to activate Bing, please contact to support@localistico.com and have a look at this article.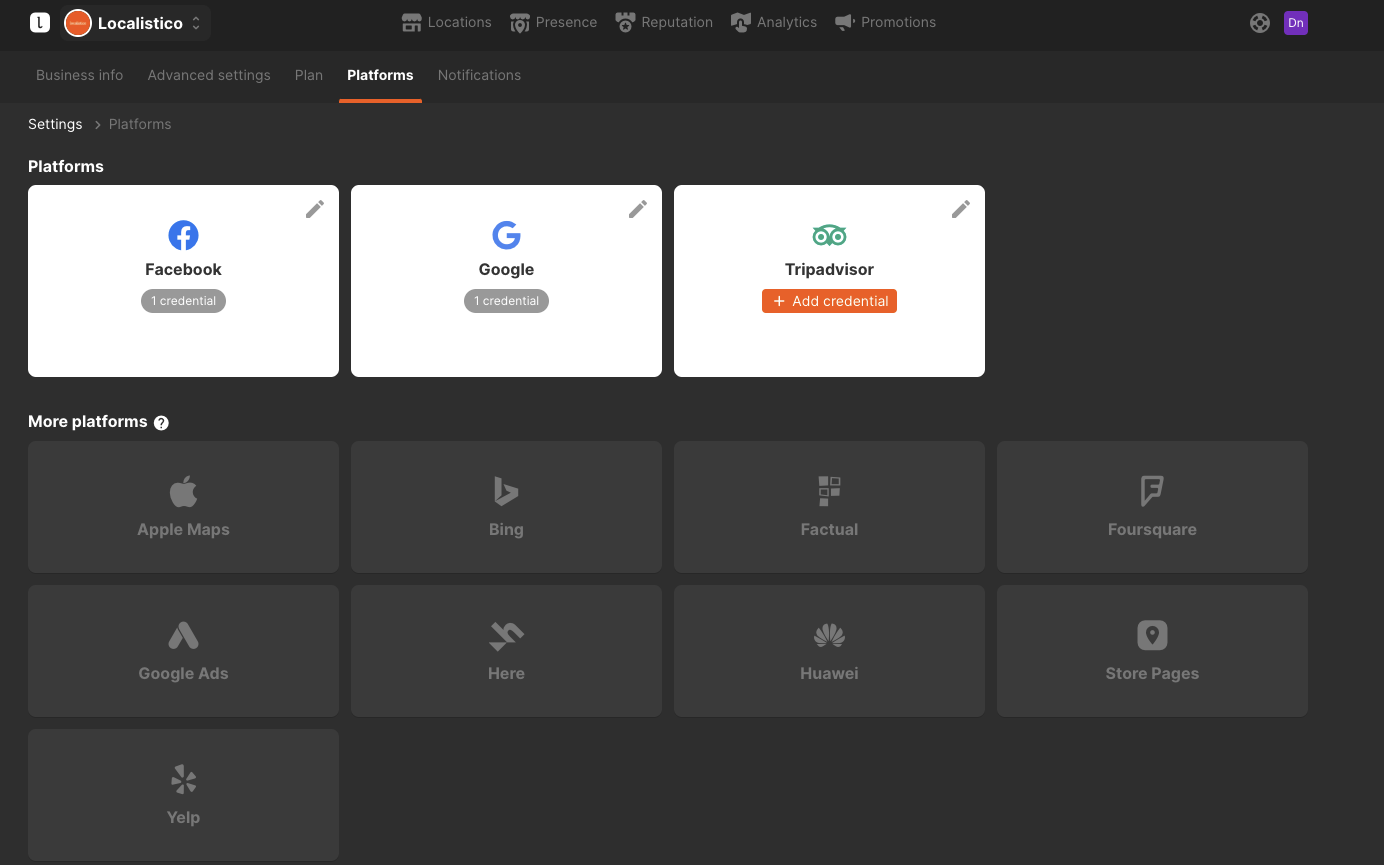 If you don't have an account on some platform yet, please check these articles on how to create the accounts: