Reply faster to your customer reviews by creating personalised review templates.
Managing your online reputation is very important to keep growing in your business. In our Reputation Tab, you can see the reviews that your clients write about your locations and what rating they give. This helps you to make more data driven decisions.
It is advisable to convey closeness to customers. This is accomplished by responding to the reviews. We advise you to start responding to negative reviews, trying to resolve potential conflicts. Once these are completed, you can go on and start responding to the positive reviews to thank the customers for their support. If you are not sure how to reply to reviews from Localistico, please have a look at this article.
How to set up review reply templates?
To save time, we recommend setting up reply templates in Localistico. You can access this feature by navigating to your Settings > Advanced Settings > Reputation Settings: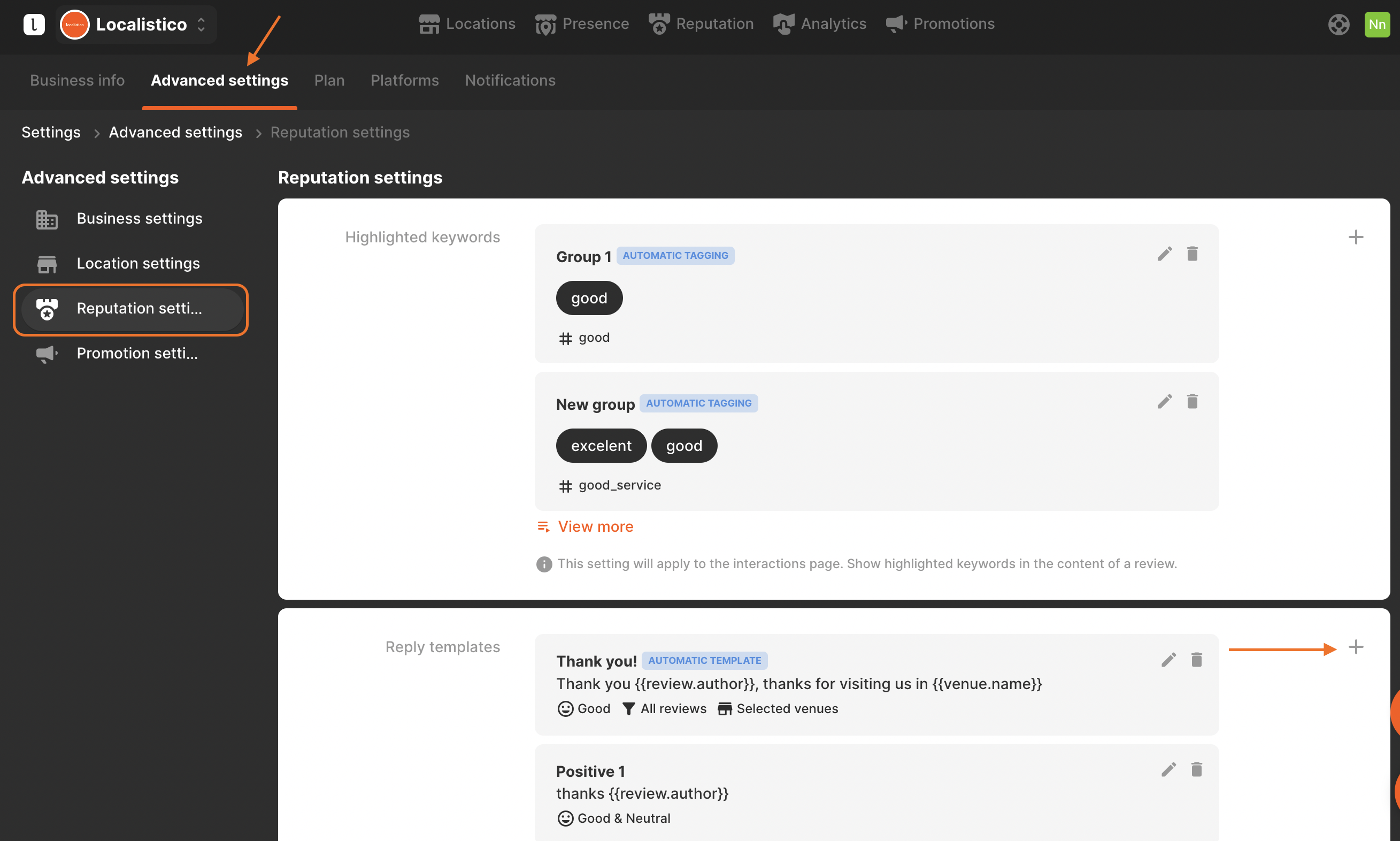 Here, you will be able to create reply templates and leverage placeholders. The placeholder functionality ensures each reply is relevant and customised by automatically pulling in the correct information for the selected criteria.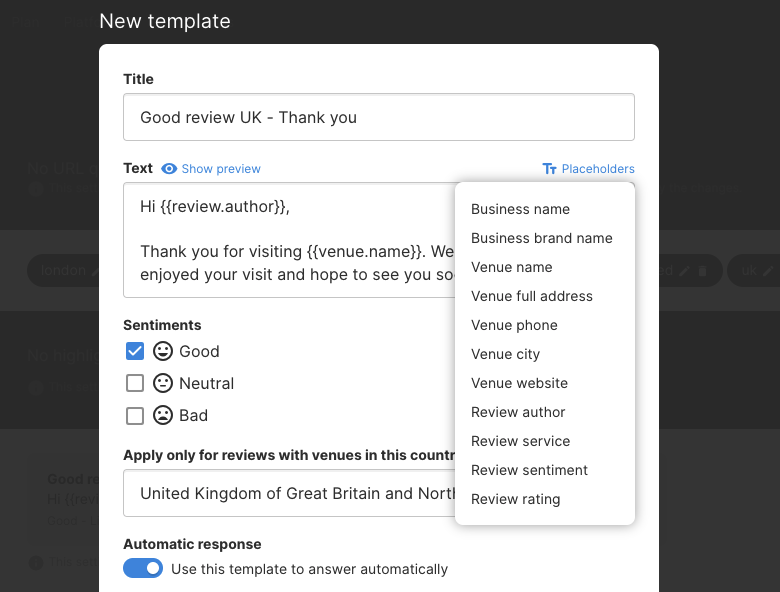 Set automatic responses to your reviews
Localistico allows you to set auto reply templates to reply even faster to your clients. If you activate the automatic response function for a template, Localistico will send that template automatically to the new reviews that are extracted from the platforms. Remember to set the following attributes to define when the response should be sent:
1. Sentiment: indicate if the reply is meant for a positive review so that it doesn't get sent to a negative review. We recommend having several reply templates for each sentiment to sound more human. If you have created multiple auto reply templates with the same sentiment, Localistico rotates them so that the same template doesn't get sent out for every new review. You may either use the sentiments (good, neutral or negative) or change to rating (1-5) to be more specific with your responses. If the templates is set to read rating and not sentiment, the template will only be used to reply to the reviews that come from the platforms that supports ratings, such as Google.
2. Venues: select the venues that should receive the template or should be excluded when sending the automatic reply template. You may select them one by one or by using venues tags.
3. Country: indicate the country of the location where the reviews come from. This allows you to set the review templates in the local language of the country and respond in Portuguese for the reviews coming from Portugal and in English for the reviews coming from England.
4. Content: indicate if you would like to send the review reply to the reviews that include text, photos, both or just the rating.
5. Keywords: create a list of keywords that a review must include so that the review gets responded with the template. You may also set some negative keywords to stop the review getting responded with the template. See this article for more information regarding keyword groups.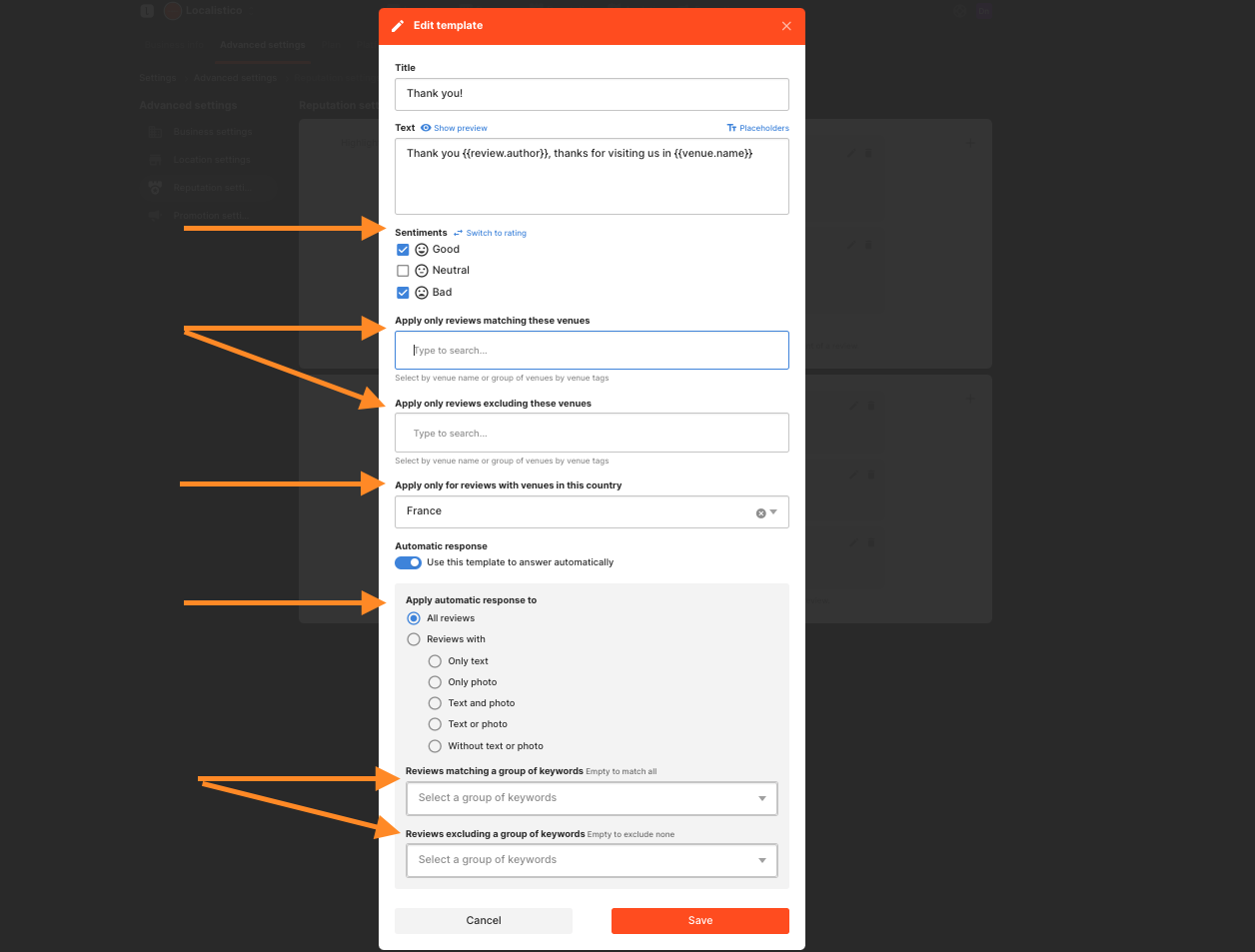 In order to activate the automatic reply feature, please contact to support@localistico.com. Please note that automatic reply might not be included in your subscription plan.